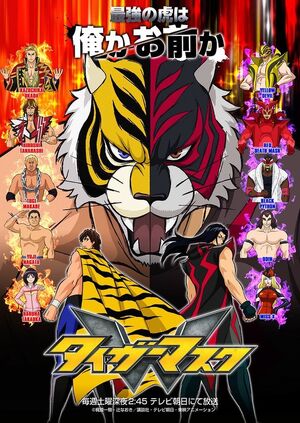 Tiger Mask W (Double) (タイガーマスクW (ダブル), Taigā Masuku Daburu) is a Japanese anime series developed by Toei Animation. The series premiered on October 1, 2016, 45 years after the end of the first anime series (night of September 3, 1971).
Synopsis
Edit
Two young wrestlers face each other in a recently revived underground wrestling organization, the Tiger's Den, which destroyed the wrestling dojo they grew up in. One took over the training facilities of Naoto Date at the foot of Mount Fuji, as well as the mask he left behind. The other dared to enter the Tiger's Den and won a fierce competition, receiving a jet-black tiger mask. One tiger walks the path of light, while the other walks the path of shadows. Neither one knows the other's face. On the ring, they are natural enemies, but they have the same purpose: destroy the Tiger's Den.
Episodes
Edit
References
Edit
↑

Only Antonio Inoki, Seiji Sakaguchi, Gantetsu Matsuoka, Mike Brisco, Don DeNucci, Pat Patterson, Len Rossi, Bruno Sammartino, and Mil Máscaras from the first anime were still alive in 2016/2017.
External Links
Edit